Following the Draw of Animation
Posted by
The creators of "The Shepherd of the Stars" discuss the process of making a film and the inspiration behind their career path in animation.
As children, some of the first forms of media we come into contact with are cartoon shows and animated movies. Characters like Arthur might teach our youth important life lessons about facing their fears, while Daniel Tiger helps kids work through their emotions and understanding of what to do in times of anger or sadness. Yet even as we grow out of the ABCs and the "learning to share" phase of our lives, animation often remains a light in the chaos that becomes our adolescent and adult worlds. Whether the content is purposely made to appeal to a younger crowd, created with a mature audience in mind, or made to be enjoyed by both, animation hasn't slowed down and likely won't anytime soon.
For the team behind "The Shepherd of the Stars," animation, as it did with many of us, presented itself during formative years. Yet excitement of creating stories through this special art form stuck with "The Shepherd of the Stars" filmmakers Céline Bernard, Héloïse Berthelier, Marion Robert, and Adrien Maggiacomo so much so that their love for it carried over to their academic studies.   
"I was looking for a way to express myself and transmit something," Bernard says. "Film and books are the best way to do that, but I'm not a good writer. I was passionate about drawing but living only with that would have been complicated, so I decided to go to 3D [modeling] school. It taught me how to do film (CGI) and animation and confirmed that doing movies is the best thing [for me]." 
Sharing the same admiration for this method of storytelling, Robert was inspired to pursue animation as a career choice by watching student films on display during a career fair. Likewise, fellow creative partner  Berthelier says she remembers being in awe of the worlds and creatures in "The Lord of the Rings" for the first time and how much this impacted her when she was a child.  
Bernard, Berthelier and Robert decided to take on 3-D animation at school, along with their classmate Maggiacomo, where they learned to hone in on the various forms of this craft to become animators of their own stories.  
It was during their second year that they were tasked to make an animated short. They quickly assembled as a team of four, realizing that they all shared a similar style and vision for the aesthetic they wanted for their film. From there, they had to come up with the story, which proved to be quite difficult initially, as they were unable to convince their teachers of the various concepts they brainstormed together at the onset. Ultimately, however, they found that they wanted to illustrate their story behind the creation of the stars, using the style of a children's fairytale to relay the themes of love, friendship, legacy and life after death. 
After landing on this concept, Bernard, Berthelier and Robert explain that they began their project with a storyboard, a process used by many animators in which the film's illustrations, digitally or sketched by hand (though the latter is less common), are organized in sequence to get a better sense of the overall picture — "previsualization." Following this, they used an animatic to help dictate the look and feel of their animation. 
"We took our designs and animated them a little, especially the cam movement," they explain. "It permitted [us] to predict the time and the rhythm of the movie." 
After this, the group went to work polishing their characters, the sun for instance, to accurately represent their idea. Part of this work to evoke certain emotions from the audience, especially in a film with no dialogue, included the strategic use of color in their animation. 
"[The sun] represents a divinity and of course the star itself," the filmmakers say. "So we designed him [in circular] and soft shapes with warm colors. All of these elements indicate to the audience that it's an important character, a nice and friendly one. Also, as in a live action film, the emotions of characters will influence the colors of the background. To generalize, when they are happy there will be bright and warm colors on the screen, and when they are sad, colors will turn darker. That is also something that will help the spectator to understand the mood." 
Additionally, Robert explains that they paid important attention to detail when it came to animating the characters' facial expressions and body language.  
"Be open minded because this will expand your creativity and your art will touch people. This is the main objective." 
"Acting is really important because it will make the spectator understand the personality of the characters," Robert says. "For example, to show that the [shepherd's] dog is really a friendly and healthy companion, I made him run or walk happily. But the shepherd is more calm and quiet so his way of moving, and his facial looks, will be more soft and wise. And last, but not least, the music accentuates emotions a lot, which is so important in this kind of movie." 
From drawing out the storyboard, to developing the characters, working on designs, color script and light script, and not to mention reworking the story multiple times, the production of "The Shepherd of the Stars" took about nine months overall. Though they are still students only dipping their toes into the world of film, in the end, they were able to create a stunning, six-minute animated short. 
Through their education however, they've already acquired numerous skills to carry them through their journey into 2D, 3D and CGI and cite the exciting mix of these forms of animation surfacing in recent years, as they have with movies like "Kubo and the Two Strings" and "Spider-Man: Into the Spider-Verse." Bernard mentions how encouraged she is by this, noting that film is always evolving in technological, graphic and creative representation. While she says it's just the beginning, she, like her peers, have learned a lot about this work in the early stages of their career so far. 
"I would say that one of the most important things is to be curious of everything," Berthelier adds. "Be open minded because this will expand your creativity and your art will touch people. This is the main objective." 
Likewise, Bernard and Robert acknowledge that hard work leads to success and that having a close-knit and equally hardworking team to support you will only help to push you along as you work on achieving your dreams.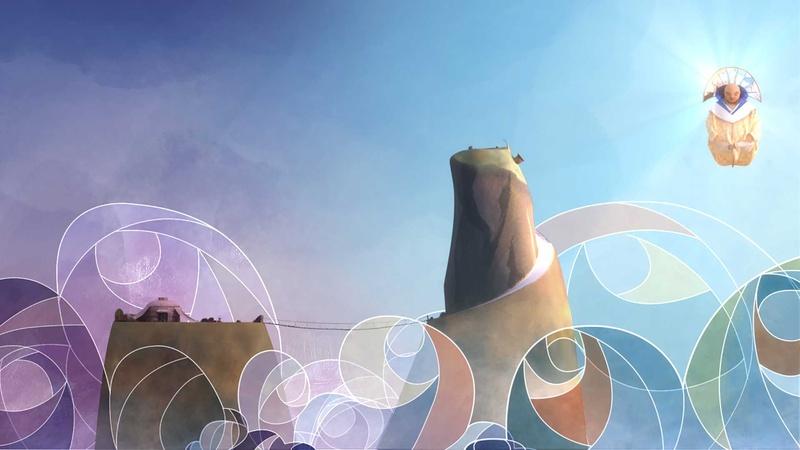 A shepherd and his dog travel by foot each day to blow in a magic horn and light the sky.